Finding it hard to pick up a Nintendo Switch during this global crisis? As non-essential workers continue to look for things to keep them busy during lockdown its causing gaming consoles to become hot a commodity. Nintendo Switch is a more family-friendly device not to mention the recent success of the Switch exclusive Animal Crossing: New Horizons making it especially sought after. Lack of stock has had a tremendous effect on the resale market with markups averaging between $400 – $500 and even up to $700 for the Animal Crossing themed bundle.
Image: Motherboard
With demand so, high price gougers on Amazon and eBay have deployed automated buy tools to purchase Switches at a normal price from retailers when they are in stock. Tools like these help gougers make purchases right when the products come online and speed up the checkout process to beat other buyers. They also use multiple accounts to bypass customer purchase limits making it almost impossible for a normal consumer to attain a Switch. Retail Website security systems have difficulty tracing and blocking these accounts due to the gougers using multiple computers, IP addresses, and VPN's.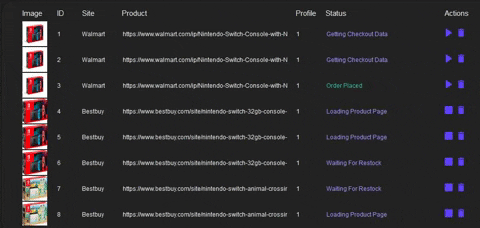 In an investigation done by Vice via Joseph Cox, Motherboard traced the bulk of Switch buying to a community built around a software tool called "Bird Bot". It was created using Discord and has attracted hundreds of people looking to use "Bird Bot" providing them with a safe place to share strategies to maximize the tool's efficiency. You can also receive customer support if you have difficulty setting up your bot or run into any technical issues.
"I decided to make it as a joke, but I quickly realized just how powerful it could be," Nate, the creator of Bird Bot, the open-source tool for quickly purchasing Switches, told Motherboard in an online chat.
"Me and my friends were talking about reselling Nintendo Switches, and at one point my friend, nicknamed Bird, told me I should make a bot. And here we are today," Nate said.
Nintendo is set to manufacture 22 million Switch consoles to counterbalance short supply issues. 52 million Switches have been sold in a little over 3 years since they have been on the market. Nintendo released a statement addressing the supply shortage last week.
"Nintendo Switch hardware is selling out at various retail locations in the US, but more systems are on the way. We apologize for any inconvenience."
22 million units will increase production by %20 from the initial 2020 projections which means the drought will be over by sometime in June. It was only yesterday you could walk into any local retail store and purchase a Switch or a Switch Lite. Negative effects from the Coronavirus pandemic will continue to plague our economy until we can resume work full time which is super unfortunate.